For every parent, healthcare of your children is vital for the overall development. Therefore trusting a reliable and experienced child specialist with your kids becomes hard as parents. Withstanding the same thought and after a research, we have listed down the top 10 child specialists in delhi who can help you with you child's healthcare. These child specialists are reviewed by parents like you on Google.
1. Dr. Promilla Butani 
The clinic provides Community Pediatrics, Social Pediatrics, Adolescent Pediatrics, Preventive health care of children, Immunisation services.
Services Offered
General/Social/Community Pediatrics

Immunization/Vaccination Services

Newborn care & Breastfeeding guide

Counseling of Parents for Child Rearing/Parenting

Preventive Child Healthcare

The chart at a Glance (Birth to 1 Year)
Top 5 Google Reviews
"Undoubtedly the best Doctor in Delhi. My family was quite worried about the health issues of my brother's son. She answered all our queries and addressed them. She is so experienced and qualified. She is accommodating. We felt as though we were talking to our family members—five stars from me."
"Dr. Butani is a very competent, patient, and kind Doctor. She is also very good with newborn babies. In fact, for my baby, she made the special effort to come and see him after birth at a hospital she wasn't attached to. I found her ready to confirm dosage and medicine names on the phone if I didn't understand something the chemist wanted to substitute. She is so caring that she made home visits if I couldn't go to her because of distance. Her insistence on giving antibiotics only as a last resort indeed speaks of her high quality. We were fortunate that both our children got her care while growing up."
"She is a doctor par excellence. Very friendly and patient with the kids. A genuinely kind soul, compassionate, and a great listener for the mother of a sick child. She is always approachable on the phone and on holidays and will not shy away from advice like many other doctors. People like her are keeping the ethos of the profession alive."
"Very professional and the best pediatric in town. She is a very compassionate and friendly doctor. I highly recommend it."
"She is very friendly with the patient and with the kids. A genuinely kind soul, compassionate, and a great listener for the mother of a sick child."
Location
C 127, Sarvodaya Enclave, New Delhi, Delhi 110017
Timings
Monday to Saturday 9 am – 11 am 
Phone Number 
098110 51270
Website  
2. Dr. Anil Bajaj
 Dr. Anil Bajaj, MBBS, MD, (Pediatrician for kids), runs his pediatric clinic, Child Cure Clinic, in Kirti Nagar, Delhi. He is well known for providing outstanding pediatric Doctor's guidance and consultancy. He has been a pediatric specialist practicing for more than 25 years (in 2013).
Services Offered
nutritional and diet guidance,

nutrition counseling,

child development and parenting issues,

introduction and promotion of  exercise and health-conscious lifestyle from an early age

prevention of injuries

managing child developmental issues,

food fussiness,

temper tantrums,

breath-holding spells

age-appropriate anticipatory guidance

advice on age-appropriate toys

well-baby check-ups

computerized growth monitoring and charts
Top 5 Google Reviews
"Highly Recommended! One of the most experienced & Best doctors I have ever met. My child is suffering from a cold; after taking his prescribed medicine, he recovered rapidly. The excellent and knowledgeable Doctor solved all my queries. Best and affordable treatment. He is always available when you need her the most. He also suggested some home remedies to a quick fix."
"Being a father of two kids, I met many doctors, but he's the best. Excellent Pediatrician with high Knowledge. I have been visiting for the last five years, never getting disappointed with his treatment. Highly Recommend it! The Doctor is very caring and provides all need-based advice & medicine. We are never going to see any other doctor."
"Best Doctor for a newborn. He is also good at providing emergency services too. Everyone can feel free to consult him as he is available 24 hours to reply to patient queries. I got excellent consultation for day-to-day development and grooming for my children. A very experienced and genuine Doctor should visit his clinic regularly."
"Excellent Doctor in treating children's problems and newborns."
"He is soft-spoken, and children get motivated by talking to him. My son was suffering from high fever with a cold and cough; after taking Dr. Bajaj's recommended medicine, he recovered in 2 days. He is available 24 x 7 to reply to the parent's queries. He listens to my child's problems patiently and doesn't prescribe unnecessary medicines. Thank you so much, Sir."
Location
H-4, Block H, Kirti Nagar, New Delhi, Delhi 110015
Timings 
Monday to Saturday 10:30 am – 12:30 pm, 6- 8:30pm  
Phone Number
011 2541 3214
Website 
https://bestpediatricianindelhi.wordpress.com/
3. Dr. Anju Bhasin
Dr. Anju Bhasin did her undergraduate & postgraduate from jumper-Pondicherry. In 1991, following my senior residency at Safdarjung hospital, l started practicing from my residence-cum-clinic in Vasant Kunj.
Services from birth to 18 years for everything from consultations and vaccinations to development monitoring, but she enjoys simply interacting with the parents to answer all those never-ending queries!
Services Offered
Vaccination/ Immunization

Infant & Child nutrition

Childhood Infections

Newborn Care

Growth & Development Evaluation / Management

Children's Health

Fever Treatment

Diet For Kids
Top 5 Google Reviews
"Excellent Doctor. Efficient, knowledgeable & friendly. It has been our Doctor for 25 years."
"Ma'am is a thorough professional with a personal touch visited the clinic on my friend's reference, truly satisfied with her counseling and medication."
"listen carefully and experience child specialists."
"She is an excellent doctor. Very sweet with children and parents alike. Very effective. I have been taking my children for the last 14 years."
"Elucidates her diagnosis and correlates with past data, giving the parent much attention to details and confidence."
Location
7371, Sector D Pocket 7, Vasant Kunj, New Delhi, Delhi 110070
Timings
Monday to Saturday 8:30 am – 12:30 pm, 5- 7 pm Saturday 8:30 am to 1 pm. 
Phone Number 
098189 45840
Website 
https://docon.co.in/webapp/info-card/anjubhasin
Dr. Saurabh Aggarwal
Child specialist Dr. Saurabh Aggarwal is a pediatrician in Delhi. Dr. Saurabh Aggarwal is an alumnus of the prestigious Armed Forces Medical College, Pune, and has served in the Indian Army in various challenging locations. He has worked at Dr. Baba Saheb Ambedkar Medical College and hospital, Rohini, Delhi, Apollo cradle, Moti Nagar, Delhi.
Services Offered 
Pediatrician
Top 5 Google Reviews
"I recently visited Dr. Saurabh Aggarwal for the first time, and I believe he's one of the best pediatricians for children. Our experience was excellent. He's very calm and listens to every detail very patiently. He cares about the kids he treats. Thanks, Dr. Saurabh."
"Best child specialist in the region. He is of utmost caring and easy to reach. As a parent, you often have many doubts, but he clears them out and guides you through parenthood with the best child care. Unique holistic approach rather than focusing only on medicine"
"I always consult Dr. Saurabh for my twin daughters. Be it any time of the day, be it a call or a clinic visit, Dr. Saurabh always gives us the best consultation. As a patient's kin, I expect a doctor to listen to my concern patiently, which he always does. In addition to being an expert professional, he is also a great human being who handles a medical situation on humanitarian grounds. One of the best human beings and best child specialists I have ever met. Thank you, Doctor."
"Very knowledgeable Doctor with a pleasing personality. He is very patient and friendly with the kids. We went to him for our two-year-old and were very satisfied with his approach to treatment. We highly recommend it."
"Nice Doctor listens very patiently, explains everything nicely, and is available on call and WhatsApp."
Location
1729/126, Shanti Nagar, Tri Nagar, Delhi, New Delhi, Delhi 110035
Timings 
Monday to Sunday 12 am – 2:00 pm, 6- 8 pm Sunday 11 am to 1 pm 
Phone Number 
075066 92725
Website
https://aggarwal-child-clinic.business.site/?utm_source=gmb&utm_medium=referral#posts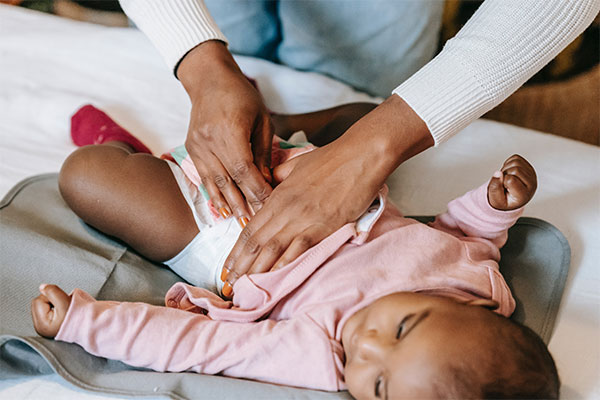 5. Dr. Kumar Ankur
He aims to keep my tiny patients healthy & happy—early recognition of uncomplicated and severe medical issues, early treatment, and prevention of diseases in kids. Listening to parents' pain/concerns/queries about their kids is paramount in my practice, and it is seen as one of the most critical aspects of child care.
Understanding the disease, using minor medications, avoiding unnecessary tests and antibiotics is always my priority. Primary Speciality MBBS, MD (Pediatrics) DNB (Neonatology), Experience 16 Years, Education & Training, Medical EducationMBBS, MD (Pediatrics) DNB (Neonatology), Certifications President of Indian Academy of Pediatrics(IAP)
Services Offered 
Breastfeeding & Lactation

Neonatal Airway Program

Children's Heart Centre

Neonatal Follow Up program

Three levels of NICU

KMC Care

Developmental Supportive care & KMC

Neurodevelopmental assessment

Tongue Ties Correction & Bodywork program

Bedside ECHO & USG

Bedside Bronchoscopy

Bedside Laser ROP treatment

Bedside EEG 7 Video EEG

Inhaled Nitric Oxide Therapy for PPHN

ECMO therapy
Top 5 Google Reviews
'I'll say one of the best people we have ever met and highly recommended for your kids."
"I have been associated with Dr. Kumar Ankur since the day my premature twins were born. His continuous monitoring of their growth pattern and his timely advice, correct guidance, and detailed follow-up sessions helped me as a mother to bring them up without any medical hassle. It's been five years plus now; even when I was away from Delhi for almost a year, I sent prescriptions written by other pediatricians to have his valuable opinion. He won the trust of a mother for her child. Dear Doctor, wishing you the best in all your future endeavors. May you guide many like me in their journey of best motherhood."
"Great experience; young Doctor (Dr. Ankur) has deep knowledge of the subject and practical insight into neonatal problems. He seems to have solutions for every neonatal complication. Strange is his behavior. He remains calm, polite with an amiable nature. I have personally inspected him during the vaccination of my granddaughter. I have never seen such expertise. God bless him for the babies yet to come."
"Dr. Ankur is a renowned neonatologist & Pediatrician. His clinical skills are tremendous, and he listens to every complaint of his mother very carefully. The clinic is spotless; the staff is are very courteous. There is a play area—the best place for vaccination for the kids. I would certainly recommend him to all the parents who are looking for a regular pediatrician."
"Best Pediatrician ever met. I'm a big fan of his. He improved my daughter's immunity, which was in terrible condition. He provides minimum medicines and cures effectively with home remedies."
Location
Sunview Apartment, Flat No- 443, Pocket 4, Sector 11 Dwarka, Dwarka, New Delhi, Delhi 110075
Timings
Monday to Saturday 6 am – 8 pm
Phone Number 
085060 60443
Website 
https://drankurneonatal.com/about.html
Visit: advice for new dads
6. Shekhar Biswas
Dr. Shekhar Biswas is a consultant Paediatrician & NewBorn Specialist at Jaipur Golden Hospital in Rohini, Delhi. He completed the postgraduate course in child nutrition for Boston University, USA. He has an interest in Neonatology, Intensive Care, and Asthma and has been trained in Asthma by Chest Research Foundation, Pune. He has attended National & International conferences and workshops in the field of Intensive Care and Neonatology. He is a member of the National Neonatology Forum (NNF), the Indian Academy of Pediatrics, and its chapter on Neonatology and IDC (Infectious Disease Chapter). He is a Regional Trainer of EPIVAC, a course in Epidemiology and Vaccination. He is a Trainer on safe IV practice, certified by JCI (Joint Committee International). Dr. Shekhar Biswas has a keen interest in teaching DNB students of this institute and is involved in guiding many research works done by the students of this hospital. He is known for providing services in Newborn Care, Childhood Nutrition, and Immunisations.
Services Offered 
Vaccination/ Immunization

Growth & Development Evaluation / Management

NewBorn Care

Bronchial Asthma Treatment

Infant & Child nutrition

Health Checkup (Pediatric)

Jaundice Treatment

Newborn Jaundice
Top 5 Google Reviews
"If I could give 5000 stars, I would. Dr.Shekhar Biswas is the best Pediatrician I have come across. He is an exceptional human being & an outstanding doctor. I cannot thank him enough! For saving my daughter's life"
"Excellent Doctor in pediatrics. Treat all pediatrics diseases—good exposure to all types of illness."
"Dr. Shekhar sir is an excellent pediatrician; his approach is simplistic and, at the same time individualistic, apart from the medicine, the advice that Sir gives is valuable."
"Dr. Shekhar Biswas is a great friend of the sick; he always speaks politely to feel comfortable. His diagnosis is fantastic & his staff's behavior is very elegant."
"Best Doctor for newborn babies and children, good treatment. He will answer all queries of parents. I highly recommend Dr. Shekhar Biswas if you are looking for the best treatment for your child….👍👍"
Location
Pocket A1/ 8 , first floor, Sector 17, Rohini, New Delhi, Delhi 110085 
Timings 
Monday to Saturday 11:30 am – 1:30 pm, 6:30 pm – 8:30pm 
Phone Number
 090133 30596
Website  
https://m.facebook.com/kindergartenclinic/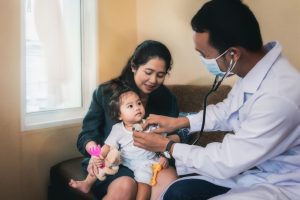 7. Dr. Sricha Sharma
The Clinic has experience dealing with children of all age groups from newborn to 18 years of age. Dr, Sriracha Sharma has experience of 15 years in this field. She completed MBBS from the University of North Bengal in 2000 and a Diploma in Child Health (DCH) from Calcutta in 2005.
Services Offered 
Consultation for all pediatric diseases.

Consultation for newborns' conditions and well-baby consultations.

Vaccinations with the latest technology for all age groups.

Growth Monitoring.

Regular asthma clinic free

Traditional diet counseling for picky eaters free

Child & Adolescent Growth Management.

Childhood Nutrition.

Childhood Infections.

Speech therapy is available by the speech therapist.

Laboratory services provided by Dr. Lal path Labs

Pediatric neurologist available for consultation at the center
Top 5 Google Reviews
"I have been consulting for my son for ten years; she is very humble, friendly, and reachable for all; she threatens each patient with the most care, making us feel our kid will be alright very soon. She is very knowledgeable; always, she used to upgrade her technology according to the critical situation."
"The doctors are working day and night during this time. However, the second wave of the corona is hitting the kids most, where it is tough for kids, parents, and doctors to cope with this situation and make the kids perfectly well. She Is handling kids via video call consultation and giving leverage to the parents so that they need not visit the clinic repeatedly. She is giving an extremely nice treatment to the kids by following up on her own via calls and messages. No matter what the time is, we have the option to call her at any time. She is taking excellent care as if they are her child. I visited many Doctors and saw them practicing, but one word I would like to say for her work, behavior, and everything is "INCREDIBLE.""
"Very patient and caring. She listens to the problems and has a human touch with the child. Very understanding in extenuating circumstances. Always recommend her safe hands 🙂"
"She is excellent and very approachable. She pays attention to detail and will calmly address all queries. Highly recommended"
"Dr Sricha is a very humble, caring and knowledgefull doctor. Her treatment and counselling was very good and effective. Will definitely recommend her to my friends and relatives 👍🏼"
Location
Shop No-123, Vardhman Dee Cee Plaza, Sector-11, Dwarka, Delhi, 110075
Timings 
Mon – Sat- 10 am to 1pm, 6-8pm ,Sunday 10 am -1pm 
Phone Number 
097177 25777
Website
http://www.drsrichasharma.com/services.php  
Visit: how to spend more time with your child
Dr. Mridul C. Das
MBBS, MD(Paediatrics), DNB (Paediatrics), PDCC (Pediatric gastroenterology), DM ( Pediatric Gastroenterology) Chronic Abdominal Pain of more than four days duration is one of the most common gastrointestinal problems in children.
Services Offered 
Jaundice Treatment

Gastroscopy

Colonoscopy

Esophageal Dilatation

PEG Tube Placement

Treatment of Chronic liver disease

Celiac disease

Diarrhea

Pancreatitis

Pain Abdomen

Treatment of vomiting

Constipation

Gastroesophageal reflux disease

liver failure

treatment of children with blood vomiting
Top 5 Google Reviews
"Dr. Mridul Sir is excellent in the gastrointestinal field. His approach is perfect. I hope my child will recover from his constipation problem very soon with his guidance. Thank you, Sir."
"Very kind, friendly, & knowledgeable professional. Give ample time to patients and listen to their issues properly. Prescribes lesser medicines and advises positive changes in the daily routine. It is highly recommended."
"In this pandemic time. Dr. Mridul c has helped us greatly with his knowledge and experience. We had a great experience with him. Thanks once again, dr. Mridul. He is one of the finest pediatricians."
"Visited for liver problems. He examined the child. He explained the issues to us and gave only a few medicines that cure my child—highly recommended for his Knowledge and a simple way to make parents understand the problem."
"Very friendly and polite and was a Sankatmochan for my child. He attended my child because of a medical emergency as he had swallowed a big stone(artificial), whereas many doctors did not turn up in a vast Hospital(MAX) due to the day being a Sunday. Many, Many thanks to him."
Location
Madhukar Rainbow Children's Hospital & BirthRight by Rainbow Hospitals Malviya Nagar Metro Station, Geetanjali Enclave, Malviya Nagar, Delhi 110017
Timings  
Mon-Sat- 10am – 4pm
Phone Number 
088744 47836
Website 
https://peadiatric-gastroenterologist.business.site/posts/117424492235294122?hl=en
9. Dr. Manu Agarwal
Specializes in Pediatric and Adolescent Endocrinology, Newborn, Pediatrics, & adolescent specialist.
Services Offered 
New Born Clinic

Growth Clinic

General Pediatric Clinic

All Vaccinations

Paediatric & adolescent

Sex Disorder Clinic

Delayed or Premature Puberty

Thyroid Disorders in children

Diabetes mellitus in children

Overweight & Obesity

Rickets and Bone Metabolic

Adrenal Disorder

Menstrual & PCOS Disorders

Hirsutism
Top 5 Google Reviews
"Consulted Dr. Manu for growth issues for my daughter. I was satisfied with his treatment. Very cooperative and friendly."
"When it comes to exceptional child healthcare, perhaps no doctor is more trusted than Dr. Manu Agarwal. One of the most experienced pediatricians. Very humble and always there to help. I cannot suggest a better Pediatrician than Dr. Manu Agarwal."
"The best doctor in Delhi for kids. No one was close to him. Par Excellence. Blessed to have him look after our kid. Thank You, Dr. Manu"
"We have been visiting Dr. Manu for almost ten years now. Given his experience in pediatric health issues- he is brilliant in his diagnosis and provides an instant/ accurate solution. He is always accommodating with his busy schedule. I would recommend him."
"We have been visiting Dr. Manu for almost ten years now. Given his experience in pediatric health issues- he is brilliant in his diagnosis and provides an instant/ accurate solution. He is always accommodating with his busy schedule. I would recommend him."
Location
B 5 & 6/4473, Gate No 3, Vasant Kunj, New Delhi, Delhi 110070
Timings 
Tuesday 10am–12:30pm, 6–8:30pm
Wednesday 10am–12:30pm, 2–4pm, 6–8:30pm
Thursday 10am–12:30pm, 2–4pm, 4:30–5:30pm, 6–8:30pm
Friday 10am–12:30pm, 2–4pm, 6–8:30pm
Saturday 10am–12:30pm, 2–4pm, 6–8:30pm
Sunday 11am–1pm
Monday 10am–12:30pm, 2–4pm, 4:30–5:30pm, 6–8:30pm
Phone Number
098110 68976
Website 
http://drmanuagarwal.com/services.html
10. Dr. Anibha Pandey
Last on the list of top 10 child specialists in delhi is Dr. Anibha Pandey. Dr. Anibha Pandey is a consultant Neonatologist and Pediatrician in Apollo Cradle Royale hospital and visiting consultant in Irene Hospital and Kalkaji Clinic New Delhi. 
Services Offered 
Infant & Child nutrition

Vaccination/ Immunization

Childhood Infections

Children's Health

Newborn Care

Newborn Jaundice

Nebulization
Top 5 Google Reviews
"Dr. Anibha Panday is incredible; Not only has she taken great care of my child's health, but also she is lovely to speak with at every appointment. It is rare to find a doctor who combines such personal touches & care for a patient with an outstanding quality of medical care. I highly recommend becoming her patient!"
"She is such a good doctor. Listen to all the doubts, queries & provide detailed answers. We have been visiting her for our daughter for the last 1+ years & are satisfied! The best thing about ma'am is she gives minimal medicines until very much required:)"
"Best place for Baby vaccination"
"Very approachable, provides honest opinions."
"Trustworthy and treats with professional courtesy"
Location
L 1 8A, DDA Flats St, opposite Raghunath Mandir, Kalkaji, New Delhi, Delhi 110019
Timings 
Monday to Saturday 1-3pm , 6:30-8pm ,Sunday 11am -1pm
Phone Number
098188 99116
Website 
Not Available 
Hope you get help from the list of these top 10 child specialists in delhi!
Keep reading for more on parenting advice.